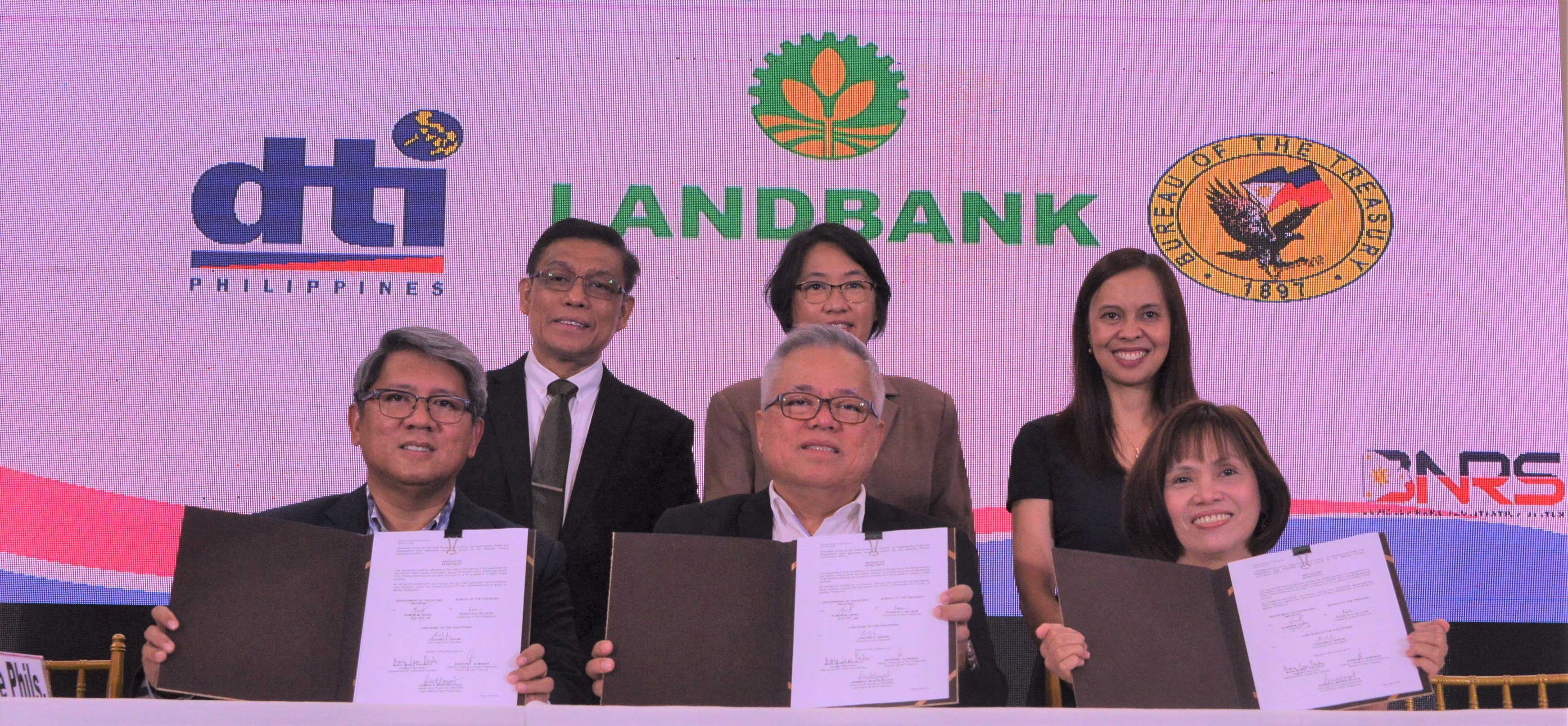 (Seated) DTI Secretary Ramon M. Lopez (center), National Treasurer Rosalia V. De Leon (right) and LANDBANK Executive Vice President Liduvino S Geron (left) led the MOA signing, witnessed by (standing, L – R) LANDBANK Senior Vice President Ramon Monteloyola, DTI Assistant Secretary Mary Jean Pacheco, and BTr Deputy Treasurer Sharon Almanza.
In their continuing efforts to improve and speed-up the delivery of government services, Land Bank of the Philippines (LANDBANK), the Department of Trade and Industry (DTI), and the Bureau of the Treasury (BTr) have signed a Memorandum of Agreement (MOA) allowing the online payment of business name registration and renewal fees through LANDBANK's e-Payment facility, Link.Biz Portal.
Trade and Industry Secretary Ramon M. Lopez, BTr National Treasurer Rosalia V. De Leon, and LANDBANK Executive Vice President Liduvino S. Geron, representing LANDBANK President and CEO Cecilia C. Borromeo, led the signing ceremony held on September 27, 2019 at the Ayuntamiento Building in Intramuros, Manila.
"This is aligned with the mandate of the President, who has always mentioned that the 'Ease of Doing Business' should be a primary concern. This is to address long queues and delays in the processing of government services to make business transactions easier for the public," said Secretary Lopez.
Under the agreement, LANDBANK cardholders may now pay the corresponding fees online through the Link.Biz Portal and avoid long queues. The online payment facility, along with the DTI's Business Name Registration System Next Generation or BNRS Next Gen (an online platform where the public could register and renew their business names), aims to make the process more convenient and efficient.
The Link.Biz Portal is an e-Payment facility where LBP cardholders can pay for products and services of both government and private institutions via the internet. Now with more than 600 merchants on board, secure transactions can be made by the public 24/7, anytime, anywhere, even at the comfort of their own homes.
"The opening of other payment channels such as the Link.Biz Portal is part of LANDBANK's dedication in serving more Filipinos, and providing them with more options which enable convenient transactions," said LANDBANK Executive Vice President Geron.
The initiative is part of the government's efforts in responding to President Rodrigo Roa Duterte's mandate of providing the public simpler and more convenient transactions with the government, under the the Republic Act No. 11032 also known as the "Ease of Doing Business and Efficient Government Service Delivery Act of 2018".
"Electronic payment systems can allow Filipinos to transact with the government in a convenient and cost-effective manner," said National Treasurer De Leon.