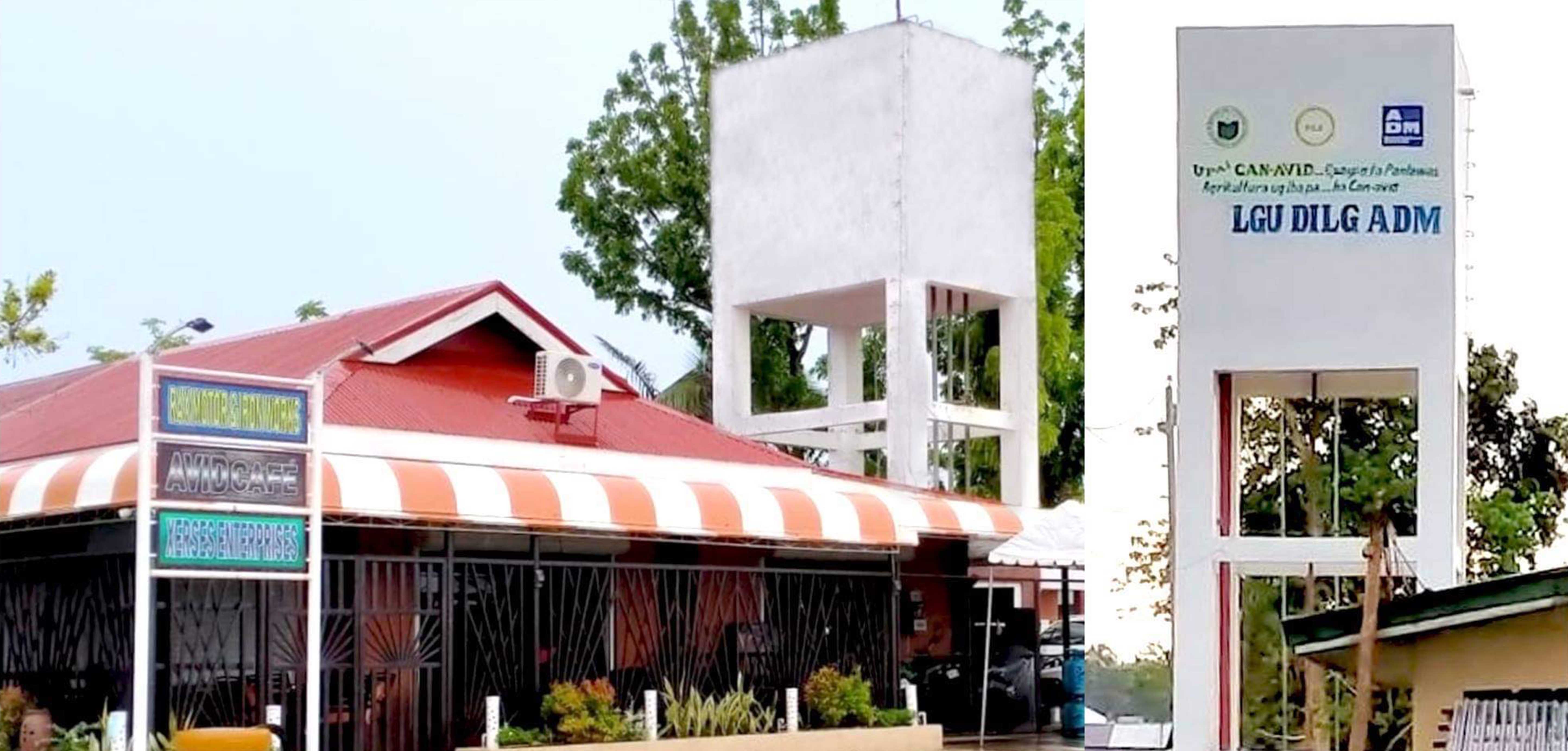 Water reservoirs in Can-avid, Eastern Samar. LANDBANK and the local government of Can-avid signed a P220-million loan agreement to finance the construction and upgrading of water system facilities in the municipality.
CAN-AVID, Eastern Samar – Towards inclusive countryside development, the Land Bank of the Philippines (LANDBANK) and the municipal government of Can-avid in Eastern Samar recently signed a P220-million loan agreement to deliver better water service and minimize health hazards in the municipality.
Can-avid Mayor Gil Norman Germino and LANDBANK Samar Lending Center Head Restituta Ilagan led the loan signing held last July 29, 2020, for the construction and upgrading of Can-avid's water system facilities. Also present were Can-avid Municipal Accountant Celestino Cabanero, LANDBANK Borongan Branch Head Christopher Marco, and LANDBANK Samar Lending Center Account Officer Teofrido Lagria.
According to the municipal government, the project will deliver efficient, uninterrupted, and less expensive supply of potable water to more residents in the area, while reducing the incidence of water-borne diseases caused by unsanitary water sources by as much as 80%.
Can-avid's water system will be upgraded from level II to level III to serve an additional six (6) upstream barangays previously dependent on individual deep well systems. The enhanced water system will soon benefit a total of 16 barangays covering 2,360 domestic households, 127 institutional establishments, and 190 commercial entities. The project design also has a provision for future servicing of four additional barangays along the national highway.
"LANDBANK has always been a responsive and reliable partner servicing the needs of our municipality. The approval of our new loan will certainly boost the morale of local leaders as it manifests the Bank's confidence in their leadership and serves as an affirmation of the meaningful programs that we undertake," said Can-avid Mayor Germino.
LANDBANK and the municipal government of Can-Avid have been development partners since 1992, when LANDBANK first became the depository bank of the LGU. The Bank also granted the Can-avid LGU a P14.92-million term loan in 2007 for farm-to-market roads, which opened access to remote barangays and farm areas, easing the transportation of agricultural products to the market. In May 2017, a LANDBANK Easy Access Facility (LEAF) was also opened in Can-avid located at the Municipal Building ground floor.
Supporting local development
LANDBANK's financial services support local programs and projects geared towards accelerating local growth, which includes the construction of necessary infrastructure and improved delivery of basic services.
In 2019 alone, LANDBANK financed more than 152,000 kilometers of farm-to-market roads, the construction and renovation of 12 hospital buildings, 33 school buildings, and 354 classrooms, and assisted 37,125 new households get connected with potable water nationwide.
Aside from its regular loans, LANDBANK also helps LGUs of rice-producing provinces through the PALAY ng Lalawigan (PAlay aLAY sa Magsasaka ng Lalawigan) Program to procure palay produced by their local farmers, as well as farm machineries and post-harvest facilities.
In light of the COVID-19 pandemic, LANDBANK has also allocated P10 billion under the HEAL (Help via Emergency Loan Assistance for LGUs) Program as emergency funding for provincial, city, and municipal governments for the procurement of goods and services to support their respective communities.
Last July 29, LANDBANK launched another P10 billion loan program for provincial, city and municipal LGUs called the RISE UP LGUs (Restoration and Invigoration package for a Self-sufficient Economy towards UPgrowth for LGUs) Lending Program to finance the recovery and development of their local economies and communities hit hardest by the health pandemic.
Interested borrowers may contact the nearest open LANDBANK Lending Center or Branch nationwide, or call LANDBANK's customer service hotline at (02) 8-405-7000 or at PLDT Domestic Toll Free 1-800-10-405-7000.
For more updates, please Follow, Like and Share the official LANDBANK Facebook, Instagram and YouTube accounts (@landbankofficial), Twitter (@LBP_Official), or visit the LANDBANK website (www.landbank.com).