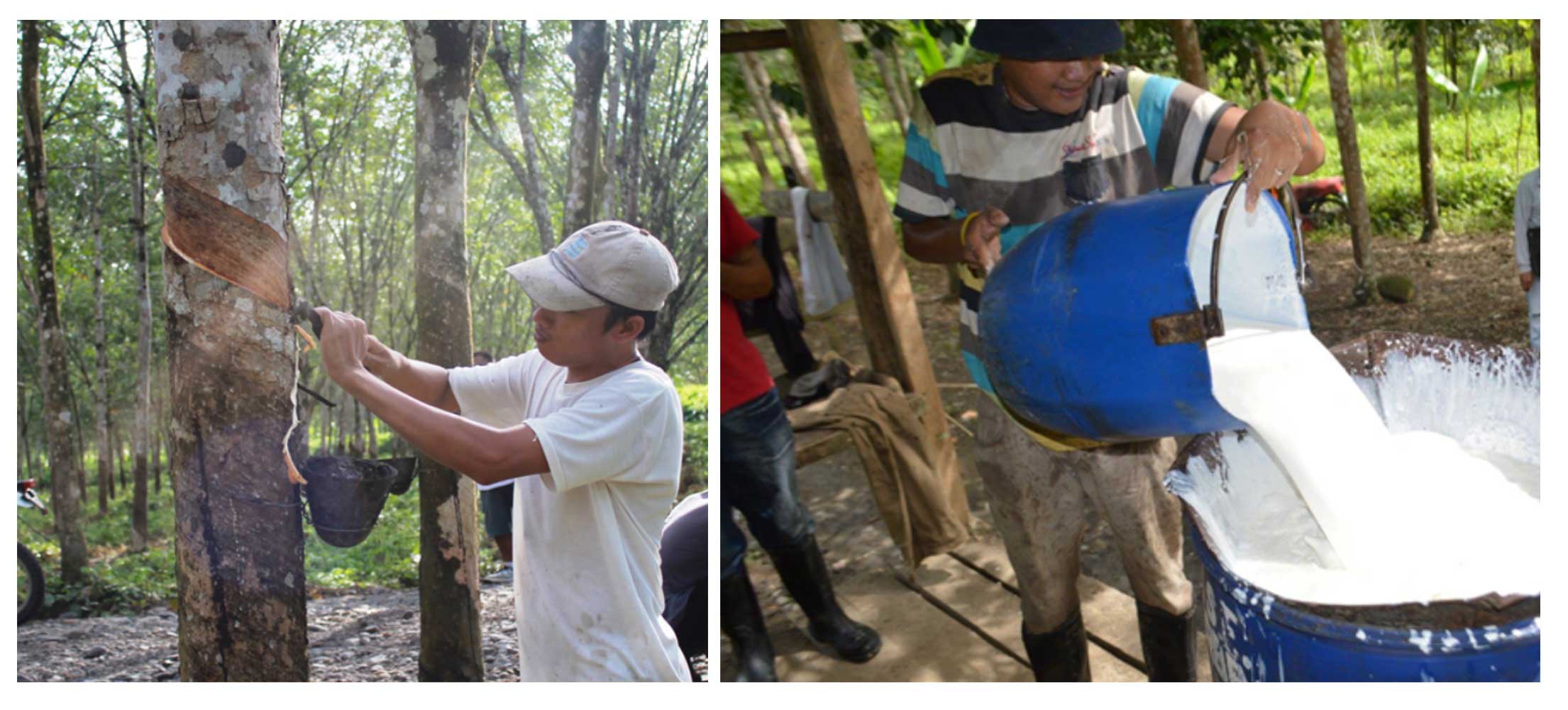 GARBEMCO manages a rubber plantation in Goodyear, Kabasalan, Zamboanga Sibugay and is currently one of the major rubber producers in the area.
For a community of 312 Agrarian Reform Beneficiaries (ARBs) in Kabasalan, Zamboanga Sibugay, a 1,000-hectare plantation of rubber trees is the primary source of income and livelihood. These ARBs have established a profitable system of maintaining the rubber trees, gathering produce and selling them, thanks to the organization they formed in 1992 – the Goodyear Agrarian Reform Beneficiaries Multi-Purpose Cooperative (GARBEMCO).
The Cooperative itself generates employment in the community. In 2018, GARBEMCO provided jobs to 321 individuals. They harvest around 600 bales of crumb rubber per week, which are packed at 33.33 kilos per bale. GARBEMCO sells these bales at P60 per kilo, mostly to the local market, and some to areas in Cebu and Cagayan de Oro.
According to GARBEMCO General Manager Lilia Manuel, the rubber plantation has been a profitable venture for the Co-op, as supplemented by other businesses including credit operations, fishpond operations, abaca production, handicraft making, consumer store, rice field rental, rice milling and trading, and hauling services.
To help the Co-op further enhance its business, LANDBANK approved a new loan on September 17, 2019 to finance its working capital requirement for rubber production, rice milling and trading, consumer store, and fishpond and abaca production. Through the years, LANDBANK has been supportive of GARBEMCO's endeavors as the growth of the Co-op redounds to the benefit of its ARB members.
GARBEMCO and LANDBANK's relationship can be traced back to 1995. The Co-op was still in its early years and was suffering from low production due to hectares of senile rubber trees. When the Bank extended an agricultural production loan, the Cooperative was able to rehabilitate its plantation and managed to transcend the challenges in its operations.
Another loan was extended to GARBEMCO in 2012, which the Co-op used for replanting purposes covering a total area of 238 hectares. This helped the Co-op further grow its rubber business.
From being besieged by various problems, the Cooperative has now grown and is reaping the rewards of sound operations. Apart from making the necessary reorganization in the management team, it also made efforts to improve its operational capacity through trainings on risk and capacity building, among others, under the supervision of the LANDBANK Countryside Development Foundation, Inc.
GARBEMCO General Manager Manuel said, "We are grateful to the Land Bank of the Philippines for the financial and technical assistance provided to our Cooperative to enhance and strengthen our operation. Looking forward to more fruitful years of partnership because LANDBANK indeed helped us grow!"
As the Bank aggressively expands its retail lending programs to provide farmers and fishers with direct access to credit, it continues to channel financing support to the sector through partner conduits, such as farmers' and fishers' cooperatives, irrigators' associations, and countryside financial institutions.
For more information on LANDBANK's lending programs, visit www.landbank.com or the nearest LANDBANK Lending Center.