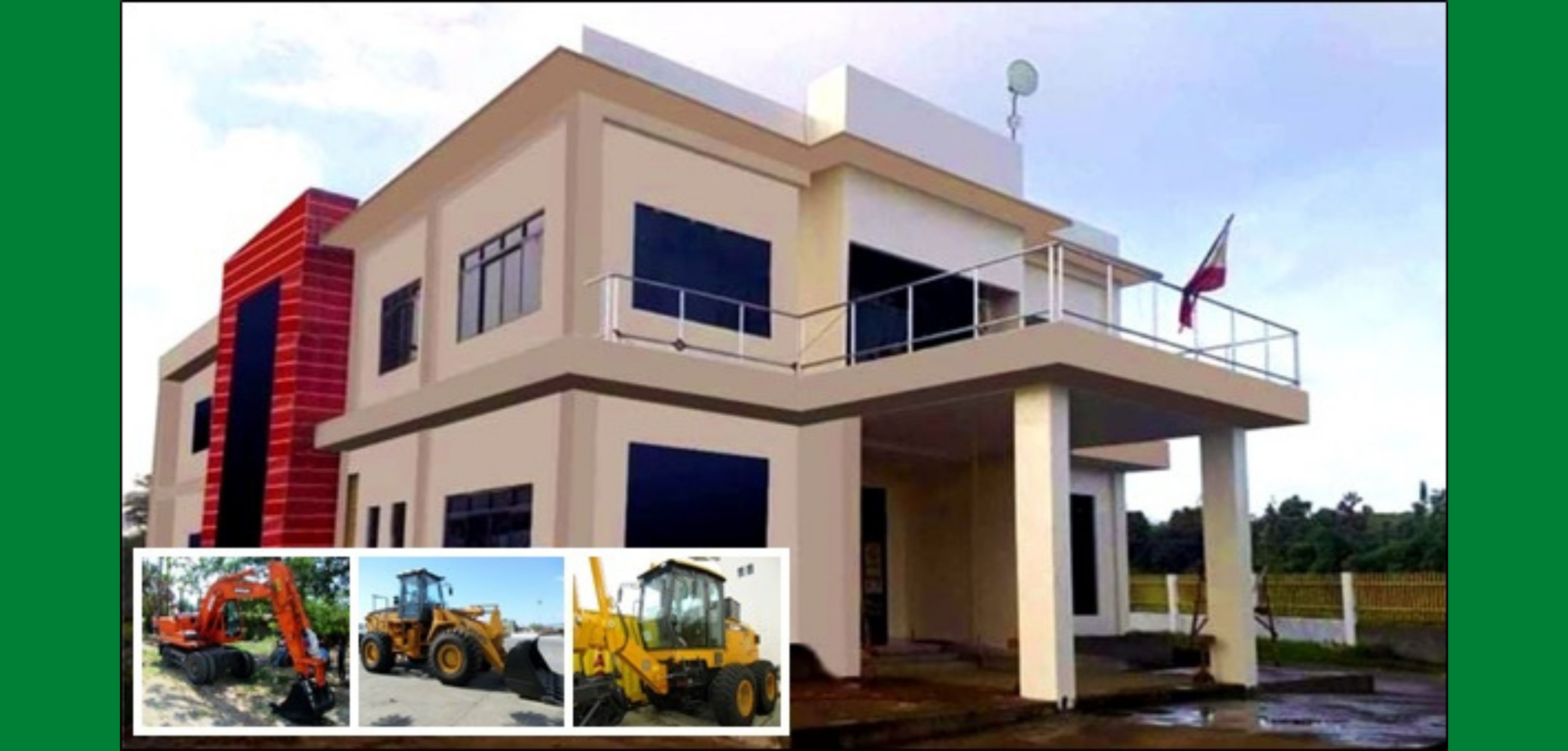 The 4th class Municipality of Lumbatan in Lanao del Sur now enjoys improved road network and unified social services after the municipal government acquired heavy equipment (inset) and built a two-storey municipal hall through two term loans it availed from Land Bank of the Philippines (LANDBANK).
LUMBATAN, Lanao del Sur – Pursuing major development projects to help boost its local economy has always been a challenge to this 4th class municipality in Southern Philippines due to limited financial resources, impeding the delivery of public services and hampering the movement of goods in its agriculture-based economy of largely rice and corn farming.
But this year, the landlocked municipality is set to complete construction of its newly constructed two-storey municipal hall, funded through two term loans amounting to P74 million from Land Bank of the Philippines (LANDBANK) in 2015. The loan also allowed the local government unit (LGU) to purchase three (3) units of heavy equipment for road construction and improvements.
Lumbatan Mayor Allan I. Lao said the new municipal hall helped them to efficiently address the needs of their constituents, particularly in the delivery of medical services, cash subsidies from the Department of Social Welfare and Development (DSWD), services for senior citizens and persons with disabilities (PWDs), as well as processing of birth certificates and business permits, among others.
"Talagang napakalaking tulong ng LANDBANK. Kung hindi dahil sa LANDBANK imposible na ma-attain namin 'yung status namin ngayon na mayroong ng maayos na mga kalsada, infrastructure, at municipal hall na nagresulta sa magandang serbisyo ng lokal na pamahalaan sa aming constituents," Mayor Lao said.
The heavy equipment purchased the following year, which includes an excavator, pay loader and grader, are continuously being utilized by the LGU in the construction of new roads and the periodic maintenance of existing gravel roads, ensuring easy access and timely transport of goods from farms to the market, and reducing transportation costs for local farmers.
Meanwhile, Lumbatan's new municipal hall will house government offices and serve as a one-stop-shop in delivering public services. This will bring greater convenience to residents in accessing different government agencies for various transactions.
Aside from delivering financial support to the country's agriculture sector, LANDBANK through the years has become a reliable partner of LGUs in driving local development. The Bank's loans to LGUs have translated to programs and projects that deliver responsive social and civic services to communities across the country.
"LANDBANK recognizes the significant role of the LGU sector in realizing inclusive and sustainable growth. We will continue to actively support our LGUs in rolling out programs and projects that help boost local economies, and generate positive impact on the quality of life of our fellow Filipinos," said LANDBANK President and CEO Cecilia C. Borromeo.
As of December 31, 2020, LANDBANK has extended loans to LGUs amounting to P54.47 billion, with P19.86 billion of this representing loans to finance agri-aqua projects, which include farm-to-market roads, slaughterhouses, and irrigation systems.
For more information about LANDBANK's Lending Programs, interested borrowers may contact the nearest open LANDBANK Lending Center or Branch nationwide, or call LANDBANK's customer service hotline at (02) 8-405-7000 or at PLDT Domestic Toll Free 1-800-10-405-7000.