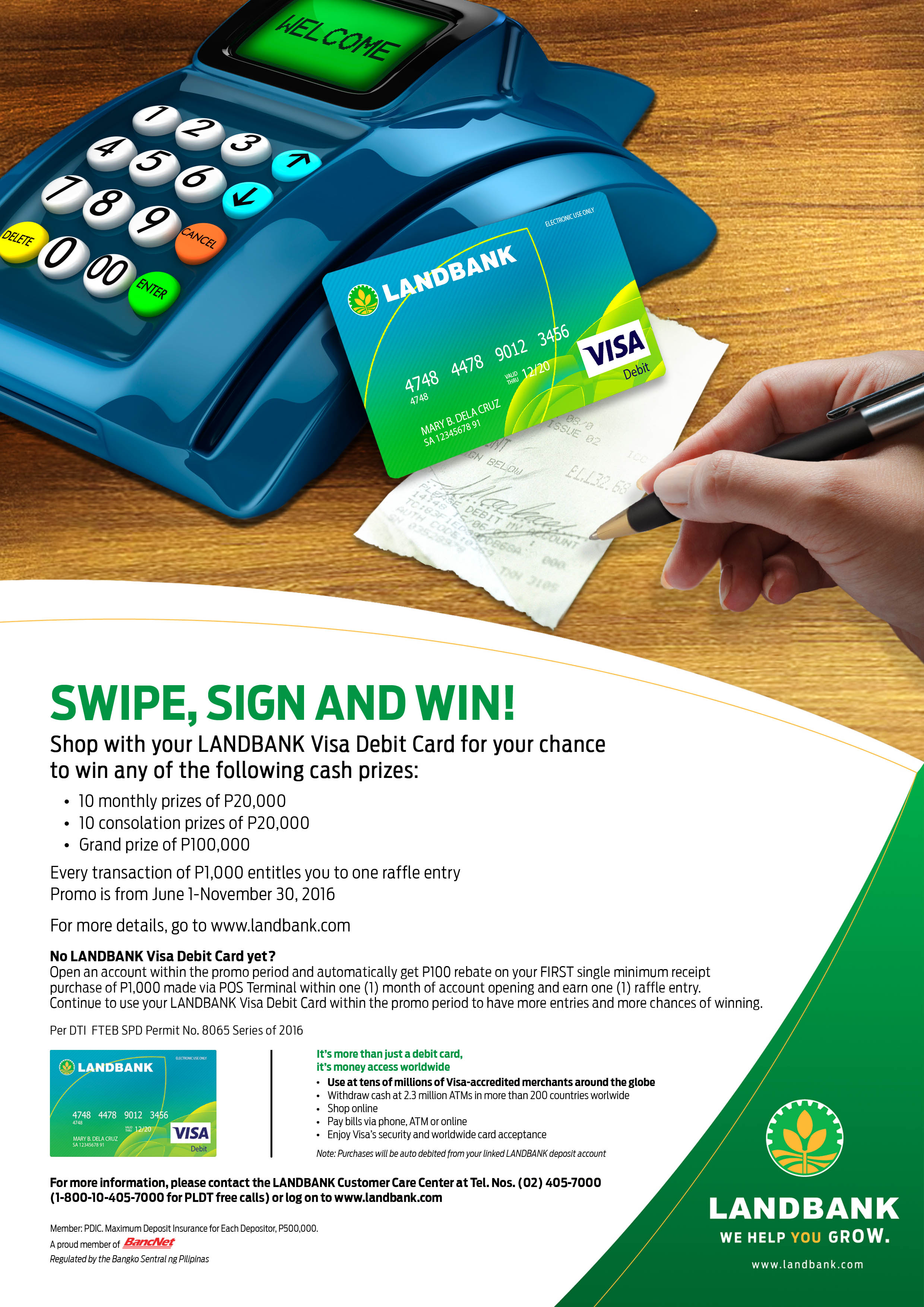 Promo period: June 1 to November 30, 2016
All new and existing LVDC accountholders nationwide are entitled to join the promo.
All non-Visa debit cardholder and those accountholders below 18 years old are disqualified to join the promo.
Qualified raffle entries shall be electronically generated by Land Bank of the Philippines (LBP).
Prizes for each draw will be as follows:
Qualified entries per month (cut-off time 11:59 PM of last day)
June 1-June 30 (Raffle Draw: July 6)
July 1-July 31 (Raffle Draw: August 3)
August 1-August 31 (Raffle Draw: Sept. 7)
Sept. 1-Sept. 30 (Raffle Draw: Oct. 5)
Oct. 1-Oct. 31 (Raffle Draw: Nov. 9)
Nov. 1-Nov. 30 (Raffle Draw: Dec. 7)
Raffle Prizes and Number of Winners
Monthly draws
Grand and Consolation Prize (Raffle Draw: December 14)

Grand Draw - 1 winner of P100,000.00
Consolation Proze Draw - 10 winners of P20,000.00
LVDC holders earn electronic raffle entries by :

Existing LVDC cardholders: Each time you shop and swipe your LVDC for a minimum single purchase of P1,000 thru a POS Terminal and sign on the transaction receipt, you will earn one (1) raffle entry electronically and will get a chance to be one of the ten (10) lucky winners of P20,000 cash each at the monthly draw and P100,000 in the grand draw plus a consolation prize of P20,000 cash for the ten (10) LVDC accountholders. The more entries, the more chances of winning.
New LVDC cardholders: Open an account within the promo period and automatically get P100 rebate on your FIRST single minimum receipt purchase of P1,000 made via POS Terminal within one (1) month of account opening and earn one (1) raffle entry. Continue to use your LVDC within the promo period to have more entries and more chances of winning.

Winners for the month-end raffle are still qualified for the grand and consolation prize raffle at the end of the promo period. One entry can win up to 10x in the monthly draw. No substitution or transfer of prizes will be awarded.
Rebate of P100 for new LVDC cardholder qualifiers will be credited to the specific LVDC accountholder on the next banking day.
The Cash prizes for all the raffle draws will be credited automatically to the winning LANDBANK Visa Debit Card accountholder within seven (7) banking days after confirmation.
Winners will be notified via registered mail, phone or an email and must be confirmed prior to crediting of cash prizes. Winners shall confirm his/her Account Name, Account No., Card No., Age, Address, Telephone No., e-mail address and LBP Servicing Branch.
Winners shall pay 20% tax for prizes exceeding P10,000.
All non-winning entries are still qualified for the monthly draws and grand draw.
Electronic raffle draws will be held at the office of Debit Cards and ATM Management Department (DCAMD), 28th Floor, LANDBANK Plaza 1598 M.H. Plaza Del Pilar cor. Dr. J. Quintos Sts. Malate at 4:00PM onwards.
Redemption period is until sixty (60) calendar days upon receipt of the notification.
To claim your prize/ confirmation, call 522-0000 locals 2636 and 2725.
DTI - FTEB SPD Permit No. 8065 Series of 2016