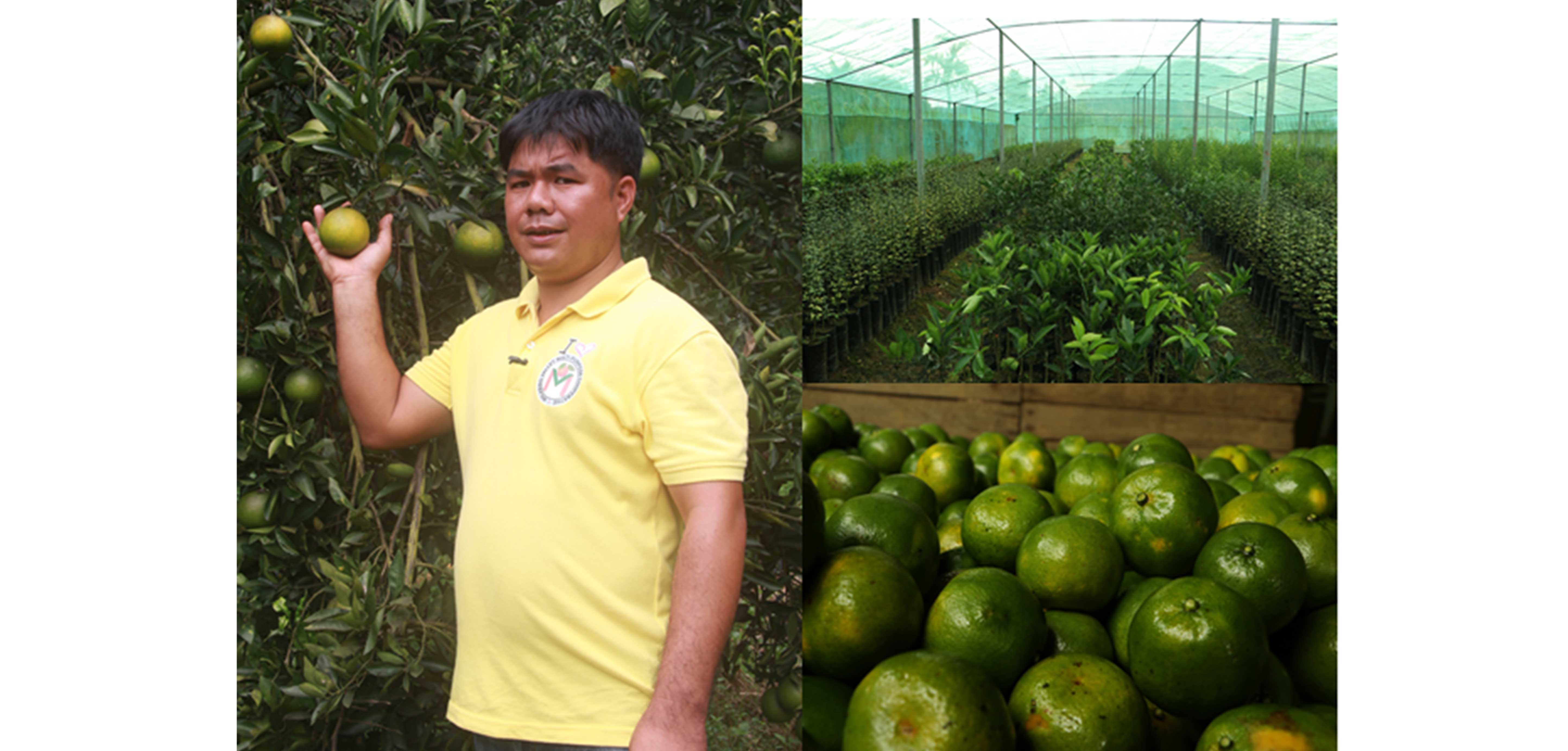 Malabing Valley Multi-Purpose Cooperative General Manager Daniel Bartong (left) showcases Satsuma fruits (bottom, right) in the Coop's orchard, where they also operate plant nurseries (top, right) which produces varieties of citrus fruits.
KASIBU, Nueva Vizcaya – In the mountainous terrains of Malabing Valley in this 3rd class municipality, around 400,000 trees of Satsuma, Ponkan, Red Chandler (Pomelo) and other varieties of citrus thrive in its rich soil and cool climate.
"For sweet citrus fruits, the ideal place to grow them is where the climate is cold in the evening and a bit warmer during the day," said Daniel Bartong, General Manager of the Cooperative.
The Malabing Valley Multi-Purpose Cooperative (MPC) is an agri-based cooperative engaged in citrus and vegetable production, and is recognized as one of the major producers of citrus fruits in the province. It has more than 2,000 members – almost 500 of whom are citrus farmers – with some 500 hectares of total aggregate orchard.
But the Cooperative's beginnings were not as sweet as the fruits they are harvesting today.
The Cooperative was founded by Alfonso Namujhe, Jr. in 1991 after developing a passion for home grown citrus from his parents who were then planting dalandan in the valley. Considered the father of citrus industry in the province today, Namujhe pursued his passion and formed Malabing Valley MPC with 48 members and Php16,300.00 as start-up capital.
"Citrus production needs a considerable amount of financial investment. For example, it takes around 3 to 4 years for the trees to bear fruit. After that, you will need around half a million pesos to maintain one hectare of orchard," said Bartong.
With the amount of investment needed for citrus production, Malabing Valley MPC sought assistance from lending institutions to help them start out. However, this proved to be difficult since no bank wanted to take a chance on them, except Land Bank of the Philippines (LANDBANK).
"When we first started, LANDBANK was the only one who trusted our Cooperative and the citrus industry as an income-generating business. There were many lending institutions but they did not believe in us and the viability of the industry," added Bartong.
Through their initial credit exposure with LANDBANK in the 1990s, the Malabing Valley MPC was able to re-lend to their farmer-members to provide for their farming needs and produce quality citrus fruits, which in return improved the income of its members. Currently, the Cooperative markets its produce in Nueva Vizcaya, Northern and Central Luzon, Baguio City, and the National Capital Region (NCR).
In 2018, LANDBANK approved a P226 Million credit line to the Cooperative for its rediscounting line, working capital, and term loan-relending for Citrus Production (new plantation and rejuvenation) which benefited 1,340 SFFs and other member-borrowers close to 2,000.
The Cooperative has been an active borrower of LANDBANK for 29 years already and an active member of the Nueva Vizcaya Credit Surety Fund (NVCSF).
To ensure the sustainability of the Cooperative's business, Mr. Alfonso Namujhe, Jr., who introduced Satsuma production in the area, together with the entire membership of Malabing Valley MPC, continue to study about the latest technological advancements in citrus production, with the help of the Nueva Vizcaya State University and other government agencies such as the Department of Agriculture and local farmer-scientists.
"Maraming salamat sa LANDBANK dahil naniwala sila sa amin. Sana po ay tuloy-tuloy ang partnership namin sa LANDBANK at marami pa silang matulungan na mga magsasaka," said Bartong.