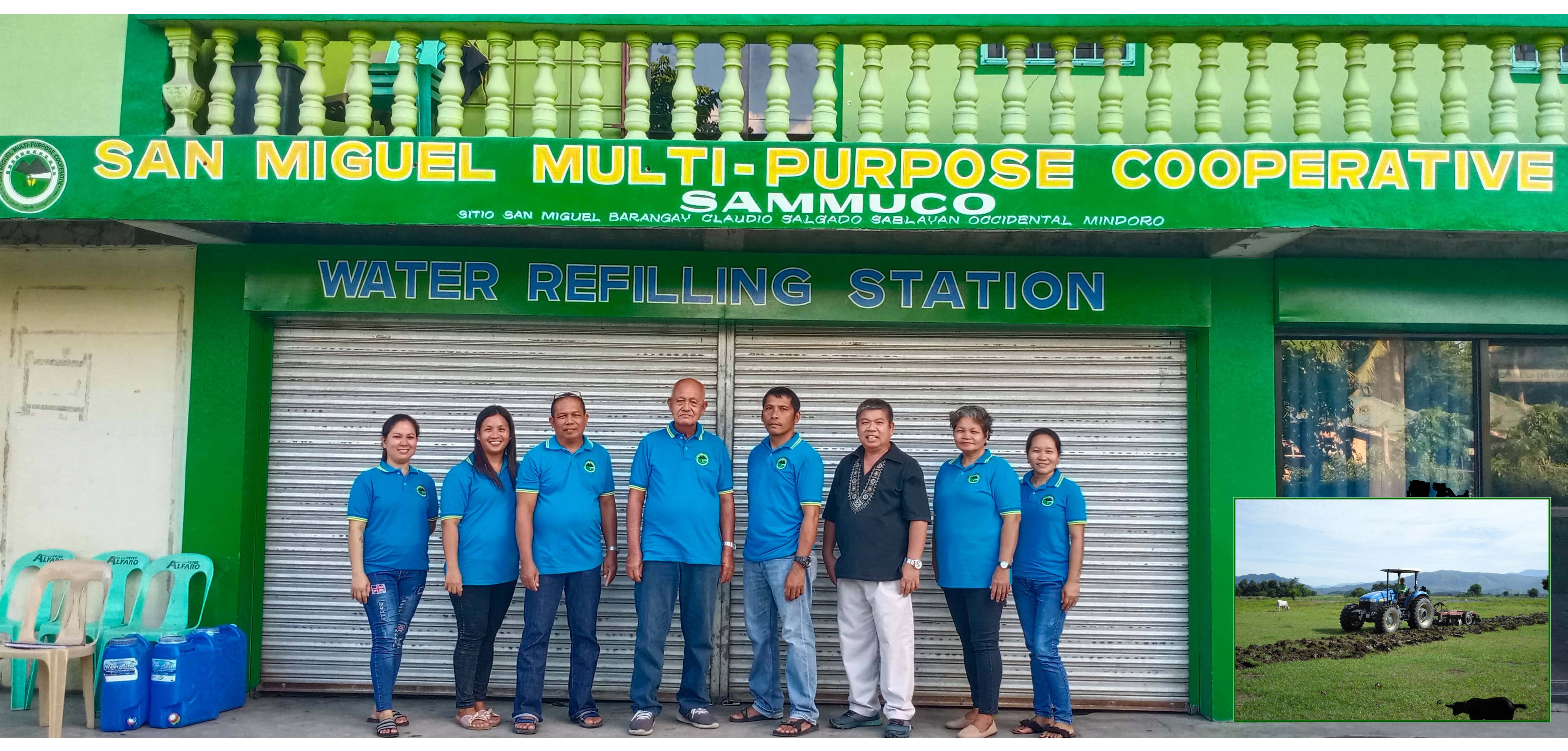 San Miguel Multi-Purpose Cooperative (SAMMUCO) Board of Directors and Management Team led by General Manager Rev. Ariel M. Gonzales (3rd from right). The cooperative's services include loans for palay and corn production, and rental of farm tractors (inset) acquired through Land Bank of the Philippines (LANDBANK), helping local farmers modernize their production.
SABLAYAN, Occidental Mindoro – In the remote sitio of San Miguel in Barangay Claudio Salgado, farmers here have learned to fend for themselves. Mostly living without the conveniences found in larger towns and cities, including access to financial services, they are left with no other choice but to turn to informal lenders to fund their crop production.
This prompted Baptist Pastor Rev. Ariel M. Gonzales to form a group of 16 farmers from their church. Pooling P1,000 from each member as initial capital, the group started to offer loans to farmers with an affordable interest rate.
In December 1996, with financial support from the Gintong Ani Program of the Department of Agriculture (DA) and Land Bank of the Philippines (LANDBANK), Pastor Ariel established the San Miguel Multi-Purpose Cooperative (SAMMUCO), with him acting as its general manager.
A year later, with the co-op's membership base steadily growing, Pastor Ariel sought LANDBANK's assistance through a Short-Term Loan Line (STLL) to finance their relending services for palay and corn production, improve its facilities, and expand to other businesses. With LANDBANK's assistance, SAMMUCO is now also able to offer loans at a lower interest rate of 1% per month.
"We have a great relationship with LANDBANK for the last 20 years. We saw our partnership progress, and we thank them for providing us with financial assistance at a very low interest rate," said Pastor Ariel.
Today, SAMMUCO buys the produce of its members in bulk at prevailing prices, and sells these in nearby provinces such as Oriental Mindoro and Batangas, since accessibility and transportation remains to be a challenge for small farmers. The co-op has also diversified its business and now runs a gas station, water station, plus plans to open a one-stop shop, and a mini hardware store.
"Gaining the community's trust proved to be a challenge at the beginning because most of the cooperatives in the area did not prosper, but we persisted. Everyone had their doubts but we overcame that by being transparent. We instilled a culture of trust among our members," Pastor Ariel said.
Currently, SAMMUCO has 280 farmer-members in their area and in neighboring barangays. The co-op also offers rental of post-harvest facilities such as harvesters, tractors, warehouse, and solar and mechanical dryers. SAMMUCO also prioritizes continuous education by offering technical skills trainings to its members.
"Malayo kami sa bayan, more than 50 kilometers, pero napaabot pa rin sa amin ng LANDBANK ang kanilang serbisyo sa amin. And we are happy that we are able to contribute to our community, generate jobs, and help enrich the lives of our farmer-members. Their children were able to finish college. LANDBANK has been providing us with moral and financial support to achieve all of this. They never fail to guide us in managing our cooperative. Their support is what keeps us going," Pastor Ariel added.
For the past 57 years, LANDBANK remains steadfast in delivering intensified support to small farmers and fishers (SFFs). As of end-June this year, LANDBANK has extended loans to agriculture sector amounting to P227.47 Billion—P7.97 Billion or 3.6 percent more than the P219.5 Billion as of June 2019.
For more information about LANDBANK's Lending Programs, interested borrowers may contact the nearest open LANDBANK Lending Center or Branch nationwide, or call LANDBANK's customer service hotline at (02) 8-405-7000 or at PLDT Domestic Toll Free 1-800-10-405-7000.