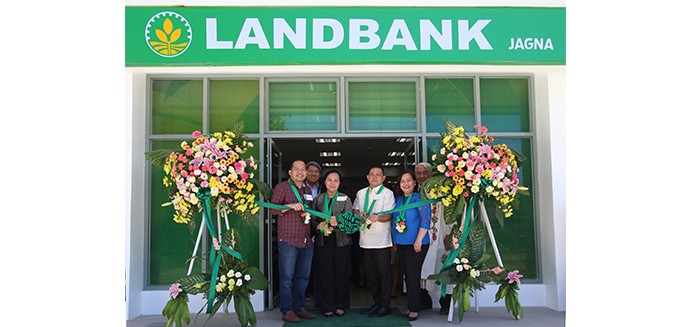 From left) Dr. Anthony Damalerio, Head of Bohol Provincial Disaster Risk Reduction Management Office (representing Bohol Governor Edgar Chatto), LANDBANK President and CEO Cecilia C. Borromeo, and Jagna Mayor Bonifacio J. Virtudes, Jr. lead the ribbon cutting at the inauguration of the Bank's branch in Jagna, Bohol – its 400th branch in the country. They are joined by LANDBANK Branch Banking Sector Head Executive Vice President Liduvino S. Geron and First Vice President Delma Bandiola.
LANDBANK recently marked a milestone as it opened its 400th branch in Jagna – a third-class municipality in the province of Bohol.
The opening of its 400th branch marks the Bank's continuing expansion program to bring access to financial services and credit assistance especially to the unbanked and underserved areas in the country.
"With LANDBANK's presence here, we can help not only with your banking requirements, but also in promoting local businesses – microenterprises, cooperatives and SMEs that drive the local economy," said LANDBANK President Cecilia C. Borromeo during the opening ceremony.
Gracing the occasion were Jagna Mayor Bonifacio J. Virtudes, Jr. and Dr. Anthony R. Damalerio, Head of the Provincial Disaster Risk Reduction Office.
Mayor Virtudes thanked the management of LANDBANK for making Jagna the home of its 400th branch. "Your social mandate of promoting countryside development in the economic and financial growth of Jagna clearly coincides with the vision of the municipality which is "Livable Jagna for Future Generations", he said.
Dr. Damalerio, who represented Bohol Governor Edgar M. Chatto, welcomed the establishment of LANDBANK Jagna Branch that completes the availability of formal banking services in all three districts in Bohol. The Bank has another branch in Talibon and two branches in Tagbilaran City.
LANDBANK likewise hopes to partner with the Municipal Government of Jagna for its development projects, especially as it seeks to put Jagna in the Bohol tourism roadmap and further generate local employment.
"This is the overall objective of our continuing expansion program – to bring access to financial service and credit assistance especially to the unbanked and underserved sectors of our society, so they too can be included and become active players in development," Borromeo added.
LANDBANK's 400 branches are supplemented by 49 Branch-Lites and 2,018 ATMs all over the country. This year, the Bank sets out to further expand its reach as it targets to bring its total number of branches to 410.