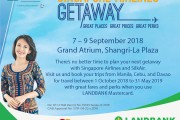 A joint promotion campaign between Singapore Airlines Ltd., together with its regional wing – SilkAir, and Mastercard.

1. The Great Singapore Airlines Getaway with Mastercard Promotional Fares on Economy Class, Premium Economy Class, and Business Class – All cardholders of Mastercard branded cards can purchase and avail of the promotional airline tickets to select routes in Asia, Australia, New Zealand, Europe, and USA. Singapore Airlines KrisFlyer members can avail of the promotional offers using Mastercard branded cards or cash.

2. Promotion is open only to Mastercard cardholders and KrisFlyer members.

3. To enjoy the fare promotion, customers can book tickets through the following channels:

a. The Great Singapore Airlines Getaway sale events
i. 7 to 9 September 2018: Shangri-la Plaza Mall Grand Atrium
ii. 8 to 9 September 2018: SM City Cebu Northwing Atrium
iii. 8 to 9 September 2018: SM City Ecoland Davao Atrium

b. Online
i. singaporeair.com or the SingaporeAir mobile app using promo code SQGETAWAY
ii. silkair.com or SilkAir mobile app using promo code MIGETAWAY
iii. Singapore Airlines ticketing office and reservation hotline
iv. SilkAir ticketing offices and reservation hotlines
v. Accredited travel agents.

4. Promotional fares are valid for travel out of Manila via Singapore Airlines, and out of Cebu and Davao via SilkAir, with sale period from 7 – 30 September 2018 (both dates inclusive) and travel period 1 October 2018 – 31 May 2019.

5. Qualified customers may purchase discounted flights to Singapore Airlines (SQ) and SilkAir (MI) destinations, detailed in Annex A.

6. Qualified customers may also avail of the following value-adds, detailed in Annex A:

a. Free Singapore Stopover Holiday
b. SGD60 Changi Gift Card
c. Double KrisFlyer Miles when booking with Agoda.com
d. Double KrisFlyer Miles for car rentals at Rentalcars.com
e. SGD20 KrisShop E-Voucher
f. Discount on Additional Baggage Allowance

7. Advertised all-in fares include the price of the air ticket as well as associated taxes and surcharges, except Philippine travel tax, correct as of 17 August 2018.

8. Three (3) days advance purchase applies.

9. Minimum stay of 3 days and maximum stay of 3 months applies after departure from origin. For Premium Economy Class fares, the travel between the Philippines (Manila/Cebu/Davao/Kalibo) and Singapore is on Economy Class while the travel between Singapore and the advertised destination is on Premium Economy Class.