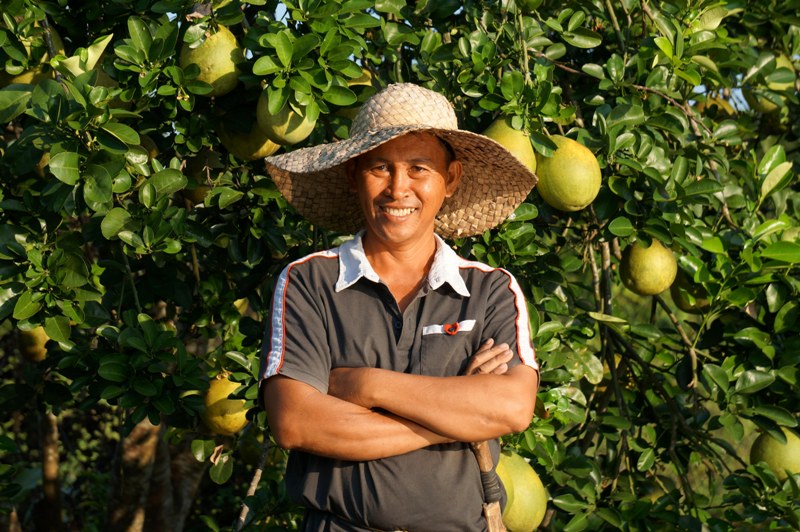 "A farmer has to be a scientist. You have to do a lot of observing. You don't just plant and plant." – This is the philosophy that farmer-turned-agripreneur Ruben Ragas lives by.
His farm in Cabadbaran City, Agusan del Norte is proof of his careful and meticulous planning. All sections - from the fish pond and livestock shed to the various vegetable plots - are strategically laid out for specific reasons. "It has to be," Ruben says. "For example, since the wind from the sea blows from the west, if we put the livestock shed west of the house, the smell is going to go straight to our living room. Everything has to be thought out."
Ruben is among the hundreds of small farmers who benefited from direct financing from LANDBANK through the Agricultural Competitiveness Enhancement Fund (ACEF). The ACEF Lending Program is implemented by LANDBANK in partnership with the Department of Agriculture to help increase the productivity of farmers, fishers, and their cooperatives and associations, as well as MSMEs, through credit assistance. Since the Program was launched in 2018, the Bank has so far released P154.29 million in loans to more than 400 borrowers.
Continuous learning
Determined to improve his knowledge and skills, Ruben continuously attended seminars and technical courses related to farming. His one-year stint with the Federation of Agrarian Reform Communities further taught him basic knowledge and skills on effective farming and efficient marketing strategies.
Equipped with farm resource and basic entrepreneurial experience, Ruben hoped to further grow their family's livelihood. Through LANDBANK-assisted Baug CARP Beneficiaries Multi-Purpose Cooperative (BCBMPC) in Magallanes, Agusan del Norte, Ruben was able to buy seedlings and farm-inputs from a P15,000-loan from the coop. Over the next few years, he went to BCBMPC for more capital, including a P50,000 loan, to help him buy another half-hectare of land. He has also since then diversified into raising tilapia and various livestock.
Before venturing into diversified and organic farming, his family's income was so small. Ruben recalls how they used to live in a wood and nipa house with no concrete floor. His farm also used to be overrun with tall grass and the land so infertile.
Today, his integrated farm is planted with a variety of vegetables, fruits, and root crops. He also raises native chicken, turkey, goats, and cows; and he produces tilapia, dalag, and other native freshwater fish. He remains methodical as he implements organic farming – with the manure of his livestock and left-over vegetables allowed to naturally decompose for use as fertilizer; while the urine from his goats are for later use as plant insect repellent and fungicide.
In 2018, Ruben availed of the ACEF loan from LANDBANK, hoping to further expand his farm. Less than four months after the release of the loan, Ruben and his family launched The Ragas Farm where visitors are allowed to pick their choice of fruits and vegetables and buy them at significantly cheaper prices than retail market price.
Aside from working capital for vegetable production, LANDBANK also provided Ruben with a term loan for the improvement of his farm which includes the building of a training hall and a drilled well for their farm irrigation.
Through his methodical farming and the financial support provided by LANDBANK through the ACEF Fund, The Ragas Farm is now a major producer of farm-fresh vegetables. It is also fast becoming a major agri-tourism site – attracting visitors from different municipalities and serving as a venue for technology trainings for various small farmers.
Ruben is now also an educator and life coach sought after by institutions to conduct lessons and seminars for aspiring agri-entrepreneurs. For his accomplishments in farming and inspiring drive to succeed, Ruben was awarded by LANDBANK as "Ulirang Magsasaka" in the 2015 Gawad sa Pinakatanging Kooperatiba.