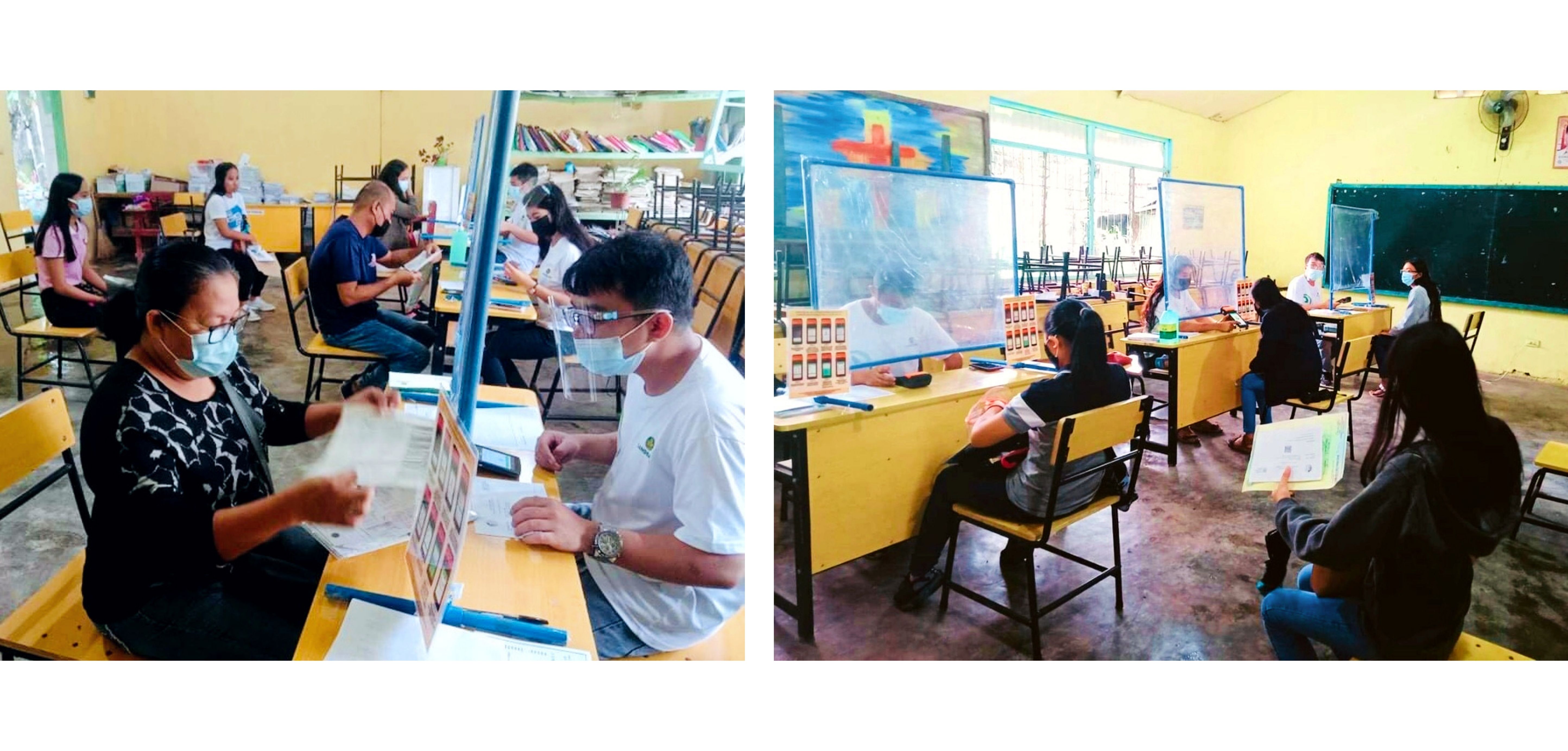 LANDBANK Sagay Branch facilitates the account opening of unbanked Philippine Identification System (PhilSys) registrants at a registration center in Sagay City, Negros Occidental on June 2, 2021.
The Land Bank of the Philippines (LANDBANK) has ramped-up efforts to bring more unbanked Filipinos into the formal banking system, in support for the National Government's financial inclusion agenda.
As of May 31, 2021, LANDBANK has onboarded a total of 3,794,882 unbanked National ID registrants for transaction accounts, of whom 1,071,177 have already received their LANDBANK Agent Banking Cards (ABCs).
The cards, which were provided free-of-charge and with no initial deposit requirement, form part of the Bank's ongoing partnership with the Philippine Statistics Authority (PSA) to co-locate in the Philippine Identification System (PhilSys) rollouts nationwide and provide unbanked registrants with their own transaction accounts.
"As we commemorate Independence Day centered on unity, LANDBANK continues to take part in the National Government's whole-of-nation approach towards reaching and serving more unbanked and underserved Filipinos, helping them to be financially independent. We are one with government partners in fast-tracking initiatives to bridge the financial inclusion gap in the country," said LANDBANK President and CEO Cecilia C. Borromeo.
The LANDBANK ABCs are given to unbanked PhilSys registrants through LANDBANK account opening booths at designated co-location areas. As of end-May 2021, LANDBANK has co-located in more than 850 PhilSys registration centers in 32 pilot provinces nationwide.
Cardholders can use the LANDBANK ABCs to cash-in, cash-out, and transfer funds at any LANDBANK Branch or Agent Banking Partner. They can also withdraw cash at Mastercard-accepting ATMs, perform cashless transactions, shop online, and receive government subsidies digitally.
In the future, the LANDBANK ABCs may be used as contactless cards to pay fares in public transport modes under the Automatic Fare Collection System (AFCS) project of the Department of Transportation (DOTr).
With its various efforts to boost financial inclusion in the country, LANDBANK is doing its share in reducing inequality, in helping to free the unbanked from poverty, and in promoting inclusive growth. Financial inclusion provides the unbanked opportunities to save, invest, and avail of affordable credit, leading towards their financial independence.
By banking the unbanked, LANDBANK enables government cash grants and pensions to be credited directly into their accounts through cashless fund transfers.
Delivering social protection programs
Together with the Department of Social Welfare and Development (DSWD), LANDBANK has also distributed a total of 5.6 million LANDBANK Cash Cards to beneficiaries of social protection program nationwide as of May 31, 2021.
Of this total, 4.4 million LANDBANK Cash Cards were delivered to DSWD's Conditional Cash Transfer (CCT) Program beneficiaries. The remaining 1.2 million cash cards were distributed to Unconditional Cash Transfer (UCT) Program beneficiaries, composed of 596,761 and 643,562 beneficiaries under the Social Pension Program for Indigent Senior Citizens and poor households in the DSWD's Listahanan database, respectively.
Through the LANDBANK Cash Cards, beneficiaries receive their government subsidy in a timely, safe, and convenient manner. They can withdraw from LANDBANK's ATMs, partner cash-out agents, as well as from the ATMs of BancNet-member banks nationwide. They can also use their cards for cashless transactions through point-of-sale (POS) machines.
Reaching unbanked and underserved municipalities
To reach more unbanked and underserved areas, LANDBANK is also expanding its Agent Banking Program by partnering with more cooperatives, rural banks, local government units, and micro, small and medium enterprises (MSMEs), among others, to help provide basic banking services.
From the Program's full implementation in March 2020 up to May 31, 2021, LANDBANK has certified 111 Full-Suite Agent Banking Partners (ABPs) operating in 48 unbanked municipalities and 159 underserved municipalities or those without a LANDBANK branch. These ABPs facilitate POS cash-out and cash-in services, fund transfers, balance inquiries, bills payment, and account opening with electronic know-your-customer (eKYC) and issuance of LANDBANK ABCs.
LANDBANK has also partnered with a total of 645 POS cash-out only ABPs as of end-May 2021, utilizing 959 terminals deployed in 130 unbanked municipalities and 829 underserved municipalities or those without a LANDBANK branch. These POS devices allow cash-out transactions not only for LANDBANK-issued cards but also for other participating BancNet ATM cards.
From January to May 2021, a total of 1,665,112 cash-out transactions amounting to P8.19 billion were facilitated by LANDBANK's ABPs. These represent increases of 4.5% and 11% year-on-year for volume of transactions and value, respectively.
Banking on technology
The state-run Bank also launched on May 12, 2021, the Digital On-Boarding System Mobile or DOBS Mobile which facilitates online savings account opening anytime, anywhere, in as fast as 10 to 15 minutes—free-of-charge and with no initial deposit requirement—without the need to visit a LANDBANK branch.
Powered by Artificial Intelligence, the LANDBANK DOBS Mobile allows interested clients to fill out application forms online, take a "selfie" and upload a valid identification card through the LANDBANK Mobile Banking App (MBA) on their mobile device. This eliminates the need to visit and line up in branches to open an account and support the government's health protocols during this pandemic.
Data from the Bangko Sentral ng Pilipinas (BSP) showed that a basic indicator of financial inclusion for sustainable and equitable national development is ownership of an account held in banks, e-money wallets, and microfinance institutions (MFIs) used to save, send or receive remittance, as well as for income, benefits, and bills payment. In its 2019 financial inclusion survey, the BSP said only 20.9 million Filipinos or 23% of the population own an account.
For more updates, please Follow, Like and Share the official LANDBANK Facebook, Instagram and YouTube accounts (@landbankofficial), Twitter (@LBP_Official), and join our Viber community (@LANDBANK), or visit the LANDBANK website (www.landbank.com).