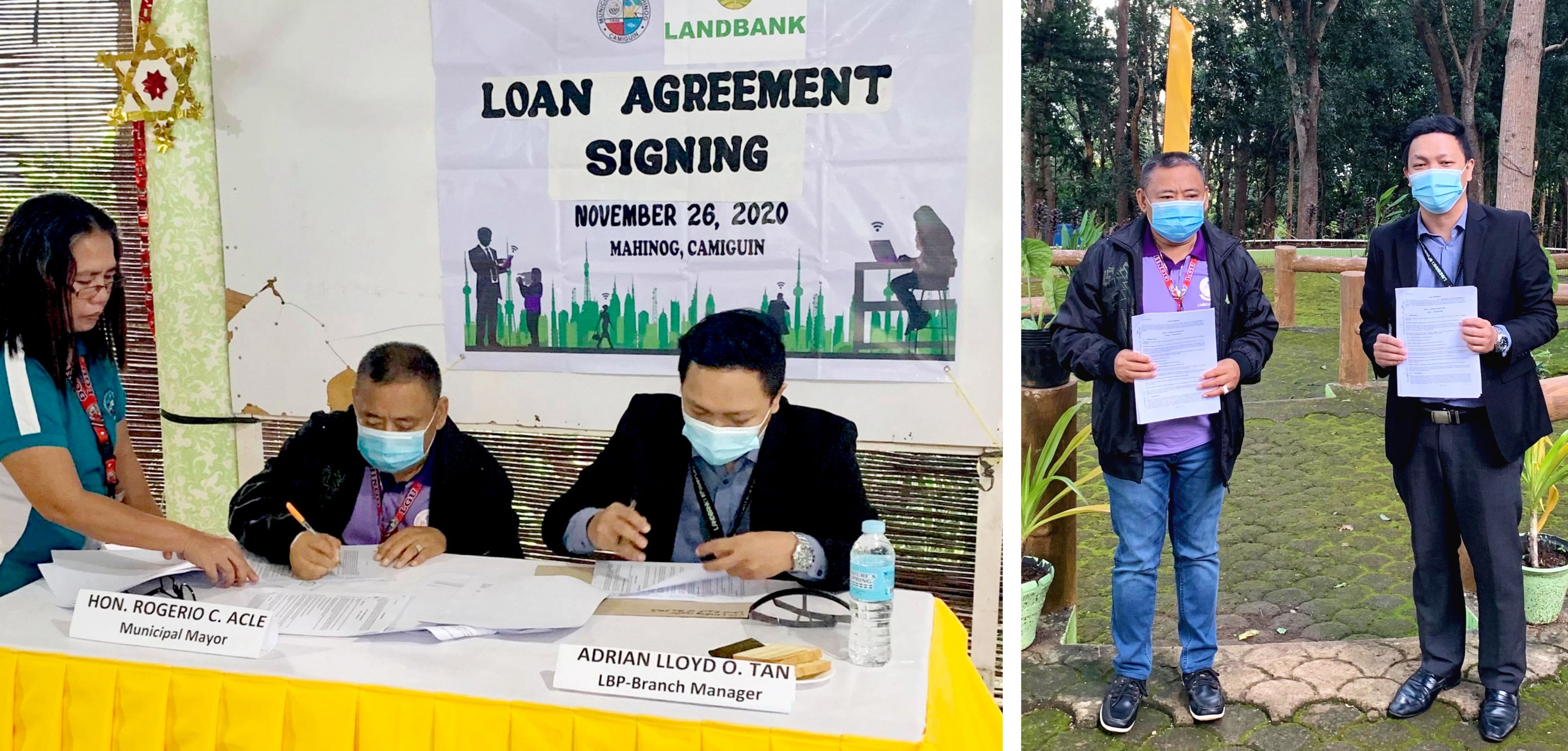 Mahinog Mayor Rogerio C. Acle (left) and LANDBANK Camiguin Branch Manager Adrian Lloyd O. Tan (right) sign five (5) loan agreements to finance the local government's construction and improvement of infrastructure projects, and the purchase of two units of heavy equipment.
MAHINOG, Camiguin – Endowed with rich agricultural land and alluring natural attractions, this 5th class municipality in northern Mindanao has great potential for growth. But due to limited financial resources, the municipal government is challenged to pursue high-impact projects that will boost its local economy.
This year, some of the town's development projects under its Comprehensive Development Plan (CDP) are expected to materialize with the recent signing of a loan agreement comprising five (5) term loans for a maximum total of P50.3 million between the local government and Land Bank of the Philippines (LANDBANK).
Mahinog Mayor Rogerio C. Acle and LANDBANK Camiguin Branch Manager Adrian Lloyd O. Tan led the loan signing last November 26, 2020, together with other local government officials.
"May mga dreams ako for my municipality na gustong matupad katulad na lang ng pagpapatayo ng mga infrastructure projects. Ang problema ay hindi namin ma-pursue dahil limited ang resources, specifically sa budget. Kaya noong nalaman ko na pwedeng mangutang sa government bank gaya ng LANDBANK, nagpursige kaming kumpletuhin ang mga requirements," Mahinog Mayor Acle said.
The loan will help the local government unit (LGU) of Mahinog acquire a brand new 10-wheeler dump truck and an excavator with breaker. These will be used to maintain various roads and other infrastructure across the town to ensure easy access and timely transport of goods from farms to the market, and to reduce transportation costs for local farmers.
A separate term loan shall finance the construction of a two-storey commercial building with a total floor area of 1,291 square meters. The building, which will be divided into various spaces and offered for lease to small and medium enterprises and traders, is expected to promote commercial activities and attract investments to the town.
Another term loan is allocated for the completion of the town's unfinished Queobe Training Center. The loan will help finish the construction of the center's training hall, convert the existing mini-training hall into rooms, and expand the dormitory to accommodate more training participants. A portion of the loan will also be used to acquire furniture, fixtures, kitchen equipment and other related paraphernalia needed in the training center.
Adjacent to the municipality's Queobe Training Center is the Katunggan Park, an eco-park with existing boardwalk and picnic sheds for tourists and trainees. Through one of the term loans from LANDBANK, the local government is targeting to complete this year the construction of a 104-square-meter canteen building and a 48-square-meter picnic shed within the park.
Finally, LANDBANK also granted the Mahinog LGU a term loan for the land development of the proposed Benoni Public Market and Transport Terminal. This involves filling up the remaining 3,700 square meters of the one-hectare area with embankment so that a transport terminal and a public market building can be built in the future. The project aims to decongest the national highway fronting the Benoni Port, which is the gateway to the entire island of Camiguin.
"LANDBANK continues to extend necessary credit assistance to local government units for small- to large-scale development projects. We believe that through these initiatives, we can multiply efforts in spurring local economic activity and growth, especially in the countryside," said LANDBANK President and CEO Cecilia C. Borromeo.
As of December 31, 2020, LANDBANK has extended P54.47 billion in outstanding loans to LGUs nationwide. This includes P19.86 billion for agri-aqua projects, as well as P5.89 billion and P5.34 billion for transportation and health care projects, respectively.